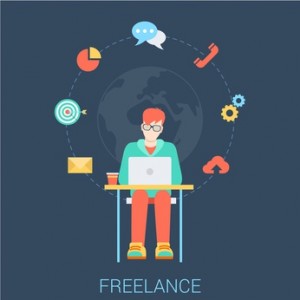 Freelance Writing for Beginners
Whether you want to earn a few extra bucks, share your knowledge, or simply express your opinion, writing freelance articles to be posted online can help you meet your objective. If you aspire to become a freelance writer, here are a few tips to get you started.
1. Write what you know. Draw from your existing knowledge and experience to inspire your writing. Perhaps you can write an article related to your line of work. Or how about a hobby? Are you into sports? If you are a parent, you may be able write an article about how to discipline a naughty child or how to potty train a toddler. The more passionate and informed you are about the abject, the better the article.
2. Keep a notebook to jot down ideas. An idea for an article can hit you at any time: while sitting in the car wash, walking the dog, or even peeling potatoes. When the idea comes write it down so you don't forget it.
3. Whenever you research a topic, write about it. Whether it be comparative religions, how to change the oil in your car, or the history of the Academy Awards, after you've done the research invest a little more time to writing an article about what you have learned. This will help you retain the information yourself and will benefit others researching the same topic.
4. Remember that your content reflects on you. Do not write about topics that will speak poorly about you, your family, or your profession. For example, if you work at a daycare center, it may not be appropriate for you to write about X-rated topics
5. Never plagiarize, ever. It's unethical and illegal. Do research, but write your own words. When you use quotations recognize the source.
6. Review, review, review. Check for spelling errors, repeated or missing words excessive punctuation, and accuracy. Are your thoughts expressed in a logical, coherent way? If you are not particularly gifted in the use of grammar, recruit your spouse or a friend to proofread the article for you.
7. Submit your content. There are several websites that accept submissions. Bukisa.com, and EzineArticles.com are just a few. Read through the guidelines and benefits for using each site, then decide which site(s) are appropriate for your content and can help you reach your objective. Once you are certain that your article is error-free and complies with the requirements of the selected site(s), go ahead and submit it. In many cases, the article will be reviewed before being posted for public viewing. If for some reason it is rejected, see if you can address the problem and resubmit it. Or submit it to another site.
8. Keep writing. Some of your articles will find a wide audience; others may be viewed by only a few. Either way, do not lose heart. Keep writing new articles and submitting them. Before long, you will discover that you have built quite an inventory of articles. Plus, beyond any financial compensation, you will have benefited from all your research and the discipline of writing your thoughts in an orderly fashion.